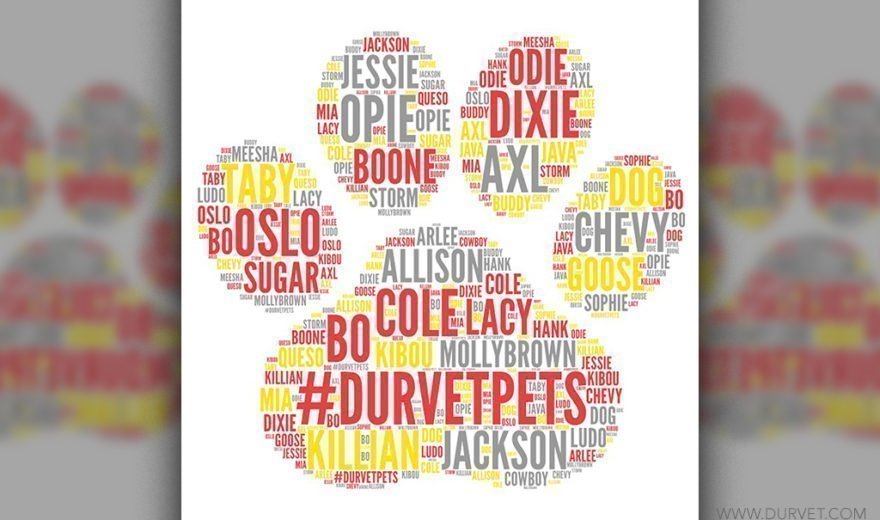 One of the first joys of pet ownership is picking out a name for your new 4-legged family member.  For some, this may come easy, but for others, deciding on a name is a task that requires much thought.  On average, dogs live 10-13 years so you will be stuck with whatever name you choose for the foreseeable future.
Tips to consider when naming your new furry-friend:
Short and sweet. Short, 1 -2-syllable names often work best, as they are easy for the owner to say and for the pet to distinguish. 
Rhymes with no = a no-no. Names that sound similar to common obedience commands can be a challenge for both pet and owner.  While Snow may seem fitting for a fluffy, white puppy, it could make teaching 'No' difficult.
Give it time. Getting to know your new pup's personality may make a name choice obvious. 
Think it through. Inevitably, you will be yelling whatever name you choose out the back door every day.  Snuggles may seem like a wonderful name to your 5-year-old, but may lose its sweetness when calling outside for him at 3 am!
Classic pet names:
Duke
Lady
Rocky
Lassie
Fluffy
Daisy
Buddy
Sadie
It might not be a surprise that here at Durvet we have a long list of  dog names:
Opie
Jackson
Molly Brown
Dixie
Cowboy
Oslo
Killian
Chevy
Allison
Axl
Boone
Taby
Jessie
Goose
Bo
Sugar
Lacy
Dog
Odie
Kibou
Storm
Queso
Cole
Arlee
Ludo
Cole
Sophie
Meesha
Avery
Hank
Buddy
Java
Mia
Drop us a comment with your favorite pet name!

BACK TO MAIN BLOG